Ultima® X Series Gas Monitors
Designed to provide thorough, continuous monitoring of many hazardous gases, the indoor/outdoor Ultima X Series Gas Monitors offer excellent performance and MSA quality craftsmanship. DuraSource™ Technology offers extended sensor life, while HART provides convenient setup, calibration and diagnostics. HART also allows for existing component install and wiring to be used. A single circuit board increases reliability, while our patented sensor disconnect-underpower feature allows all sensors to be replaced in hazardous areas without area declassification. The units are crafted from either stainless steel or polycarbonate, and the interchangeable smart sensors eliminate the need for reconfiguration. Our scrolling LCD screen display sensor reading and gas type, while the calibration process includes date stamping and the ability to calibrate locally or remotely.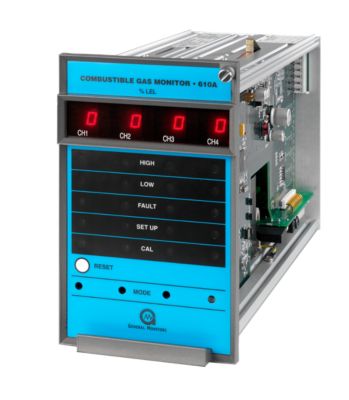 610A Four Channel Combustible Gas Monitor
The 610A is a system for continuously monitoring combustible gas (hydrocarbon) concentrations in four locations. The system consists of four General Monitors remote catalytic bead sensing assemblies and a solid-state controller. The controller features four independent channels, each having its own circuitry. The 610A features a digital display of gas concentrations in % LEL (0-99% lower explosive limit) for each channel.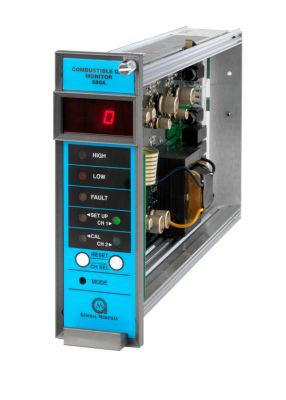 580A Dual-Channel Combustible Gas Monitor
The 580A is a compact, highly-versatile system for continuously monitoring combustible gas (hydrocarbon) concentrations in two locations. The system consists of two remote catalytic sensing assemblies and a solid-state controller. The controller automatically displays the higher reading channel on a digital display, scaled from 0-100% LEL (lower explosive limit). Manual override switching permits readout of the low channel at any time.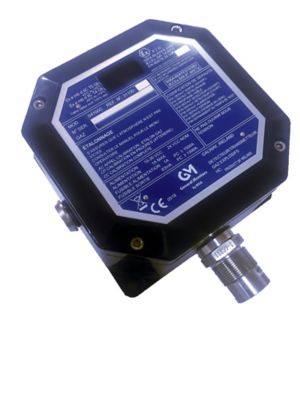 S4100C Combustible Gas Detector
The S4100C Intelligent Sensor is a self-contained microprocessor-based transmitter with integral three-digit readout. It is designed to measure and display concentrations of combustible gases in the 0-100% LEL range, but will continue to display concentrations up to 120% LEL. The sensing element may be incorporated in the transmitter housing or remotely mounted at distances up to 620 meters. The S4100C records the number of successful calibrations, computes the sensor output in mV during calibration and stores in non-volatile memory.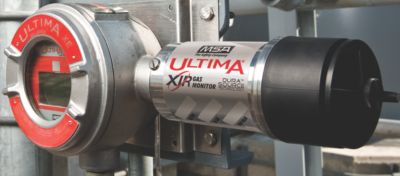 Ultima® XIR Gas Monitor
The microprocessor-based, infrared Ultima XIR gas detector is precisely engineered to continuously monitor for combustible gases and vapors. The unit features DuraSource Technology, which offers improved IR life, and a HART port for easy output access. The explosion-proof stainless steel monitor works indoors or outdoors and features infrared technology that eliminates the need for frequent calibrations. Its operations are based on dual-wavelength, heated-optics technology, which compensates for temperature, humidity and aging effects. The unit uses only one circuit board for increased reliability, and the sensor life isn't reduced by exposure to gas. The LCD screen provides scrolling information, while optional quick-check LEDs provide increased visibility.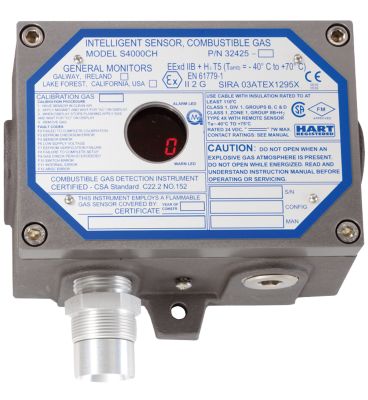 S4000CH Combustible Gas Detector
The S4000CH Intelligent Sensor is a microprocessor-based transmitter designed for use with General Monitors industry-leading catalytic bead sensors. It features one person calibration and virtually self-calibrates by simply activating a magnetic switch and applying gas. It monitors combustible gases and vapors within the lower explosive limit (LEL) and provides status indication and alarm outputs. Complies with ANSI/ISA 12.13.01-2000 performance requirements for combustible gas detectors.