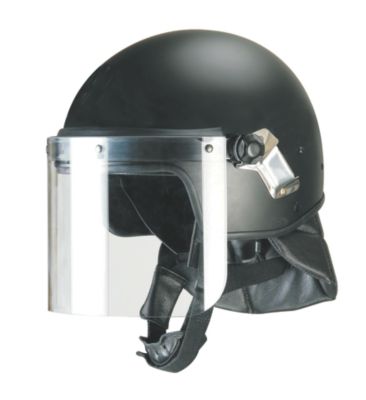 MO 5001 Series
MO 5001 helmets series protect law enforcement from shocks, projectiles, gas and smoke. The helmet is compatible with a MSA 3S-H respiratory mask for increased protection. * Polycarbonate shell and padded inner cradle provide high degree of protection for law enforcement * Chinstrap with leather neckpads and hard chincup is equipped with a anti-strangulation buckle (depending on versions). * Visor is available in 4 mm or 6 mm thick.
TC 800 Series
Gallet TC 800 Helmets Series are ballistic helmets adapted to different applications: * Combat, where gear need to be robust and reliable, and where strategies co-exist with modern technologies and means.  * Airborne missions, which are complex and require different equipment (free fall jumps, 0₂ equipment, specific wings…).  * Anti-terrorism & Special Operations, where teams often operate under high ballistic threats. Each team member designs his own and unique configuration of equipment. * Intelligence Operations, where the different phases of the missions (infiltration, intelligence gathering and exfiltration) require lightweight and discrete equipment. The helmets are available in 3 ear cuts and in green, black, or tan with a non-reflective finish.
TC Special Forces Series
Designed for special assault missions, the bulletproof TC Special Forces V2 Helmet combines high ballistic protection with comfort. The helmet includes a bulletproof visor, a soft carry bag and a belt strap. The helmet is also compatible with a ballistic neck curtain, an anti-shock face-shield, an anti-shock neck curtain and a helmet cover.