MSA Link Pro is now Safety io Grid Fleet Manager
Simplify your gas detection safety program. Assess, address and share your MSA fleet status from any computer with an Internet access. Learn more about Fleet Manager.
Prefer the traditional MSA Link Pro platform?
Check out the HIGHLIGHTS tab for more details.
MSA Link Pro is now Safety io Grid Fleet Manager
10123938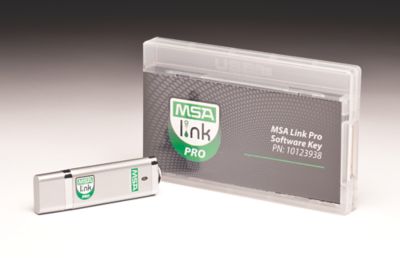 USB DRIVE,MSALINKPRO,DIGITALSOFTWAREKEY
Dashboard – Live System View
Single-glance notification of instruments that are overdue for calibration or bump test
Reports – View at your convenience
Database storage of instrument Periodic and Session data logs and customizable reports
Email Alerts – Instant alerts
Email notifications of GALAXY GX2 System and instrument warnings and error messages
Fleet Management – Configure and Audit Systems
Configure banks, instruments and audits fleet settings
System can be set up with either static or DHCP connections, offering wide flexibility.
Access flexibility: administrator assigns several levels of user rights.
Users can access software from any computer that is directed to main database.
Database exists on one computer or server; multiple end user PCs can access database to use program.
Network can be as simple as one test stand bank, one router and one laptop computer, or have one or many test stand banks exist within a corporate intranet structure. MSA Link Pro Software operates completely within your company's firewall
Markets:
Construction, Fire Service, General Industry, Oil & Gas, Utilities