FL4000H Multi-spectrum IR Flame Detector
Infrared Detector that provides superior false alarm immunity.
The FL4000H is an advanced multi-spectrum infrared (MSIR) flame detector that provides superior false alarm immunity with the widest field of view. The FL4000H employs a multi-spectral optical IR sensing array with a sophisticated Neural Network Technology (NNT) system to reliably discriminate between actual flames and the vast majority of false alarm sources. The FL4000H detects typical fires such as alcohol, n-heptane, gasoline, jet fuels and hydrocarbons. It can also see through dense smoke produced by diesel, rubber, plastics and lube oil fires.
FL4000H Multi-spectrum IR Flame Detector
FL4000H-1-0-1-3-1-1-1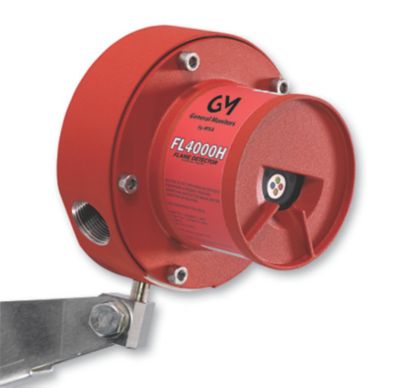 FL4000H multi-spectrum IR flame detector, dual Modbus, 0-20 mA, high sensitivity, 10 second delay, 3/4" NPT, mounting bracket
Multi-Spectrum Infrared (MSIR) Detector package for increased range (230 ft) and wide field of view (100° @ 100 ft)
Neural Network Technology (NNT) provides superior false alarm immunity
Event logging records time, date and type of event
HART and Modbus communication options provides complete status and control capability in the Control Room
Continuous Optical Path Monitoring (COPM) checks optical path integrity and detector's electronic circuitry
Test mode used to check all outputs (used with TL105 Test Lamp)
Markets:
General Industry, Oil & Gas, Utilities
General
Manuals
Ordering Info
Downloads